The Economic and Financial Crimes Commission, EFCC has reportedly discovered an additional $5million in a bank account belonging to former first lady Dame Patience Jonathan. This latest discovery brings the total amount of money found in the first lady's account to $20million.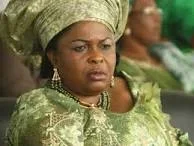 PUNCH reports that speaking on the discovery, a source within the EFCC said, "One wonders where a person, who has never held a government position, got the money from. She was not our initial target but she certainly has questions to answer."
Just yesterday, it was reported that the former first lady had laid claim $31.4million at the center of a fraud investigation. It is unclear whether or not the EFCC will invite Dame Jonathan for questioning.