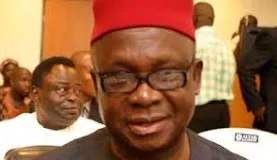 Governor Martin Elechi of Ebonyi State on Wednesday alleged plans by some individuals and groups in the state to put the executive and legislature on war path.
The governor stated this in Abakaliki in his first reaction to the crisis rocking the state House of Assembly.
The crisis started when 18 out of the 24 members of the House impeached the Speaker, Chukwuma Nwazunku and elected Rt. Hon Helen Nwaobasi as the new speaker.
Click here to read more
Source: #TheNation