Spiritual leader of the Adoration Ministries in Enugu State, Rev. Fr. Ejike Mbaka, has said those working with President Muhammadu Buhari, are only interested in what they can get from the current administration.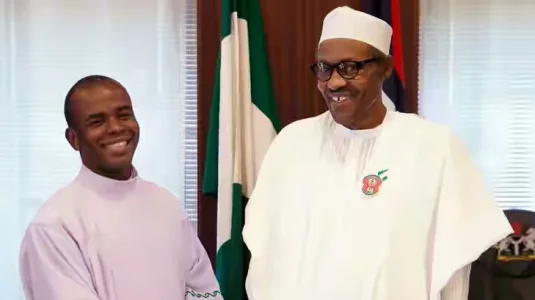 Mbaka insisted that Buhari had good intentions for Nigeria, but his efforts were being frustrated.
In a sermon at the first Adoration Crusade for the year, Mbaka said: "Unfortunately, he (Buhari) surrounded himself with officials who have different agenda.
"Buhari has good intentions for the country; unfortunately, his subordinates have different agenda – they are interested in their pockets.
"Those wishing the president dead don't love this country. Children of God, what do people gain by wishing somebody dead? We should pray for our leaders; that is what the Bible says."
He also encouraged Nigerians not to lose hope, as there was light at the end of the tunnel.