Governor Ayo Fayose on Friday issued seven-day ultimatum to defaulting Federal Government agencies occupying Ekiti State Government's property to vacate same.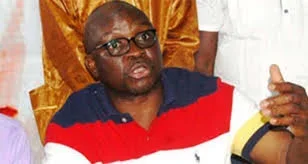 The government insisted that the agencies must comply with its directive by either buying the property they are presently occupying or paying the normal rent on them.
The News Agency of Nigeria reports that Governor Fayose gave this directive in a statement signed by his Special Assistant on Public Communication and New Media, Mr. Lere Olayinka.
Fayose said the state government had evicted the Nigeria Security and Civil Defence Corps, Ekiti State Command and other federal ministries and agencies from their various offices.
"Yearly, budgetary provisions are made for payment of rent by Federal Government agencies, which has no permanent offices across the 36 states of the federation
"We then wonder why those that have been occupying property belonging to the Ekiti government for over 10 years do not want to pay rent or make the property theirs by buying them," he said.
The governor said some of the agencies had purchased the properties they are occupying, while others, such as the National Population Commission, had promised to pay.
"As at today, the National Agency for Food and Drug Administration and Control and National Environmental Standards and Regulations Enforcement Agency have already paid N5.5m and N10.8m respectively for outright purchase of the property they are occupying
"Even the NSCDC is already offering to pay N18m instead of the N27m it ought to pay
"The Nigerian Prison Service, which is currently occupying property valued at N108m, is insisting that it won't pay. We have given a seven-day ultimatum for all the federal agencies to purchase the property, pay rent or quit.
"We are yet to evict them, we only gave them notice of one year and we have now given another seven days of grace. There is no going back," he was quoted in the statement. (NAN)