Senator Buruji Kashamu has alleged that Ekiti State Governor, Ayo Fayose wants him dead.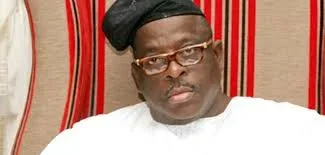 Senator Kashamu made the claim during an interview session with NEW TELEGRAPH. "Some politicians believe I am too powerful, popular and influential. There is no way you will be in politics, especially at my level and not step on toes," he said.
"So, all those intimidated by the unsolicited influence and popularity which naturally comes because of ones generosity to people, are always trying to use things against me.
"They want my enemy to die, they desire terrible thing for the enemy of Kashamu not me, but I thank God for always keeping and protecting me, regardless of the machinations of enemies."
"They are many and they are everywhere. They are in Ogun State, they are everywhere. I do know that the Ekiti State Governor, Ayodele Fayose is one of them."