Justice Steven Evoh Chukwu of the Federal High Court in Abuja is dead.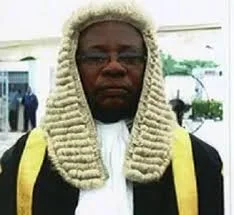 According to THE NATION, Justice Chukwu was involved in major cases against former Adamawa state governor, Murtala Nyako and his two children; the trial of former officials of the Nigerian Football Federation (NFF), Sani Lulu, Taiwo Ogunjobi and others. The judge was also in charge of the case initiated by five senators contesting the latest election that produced Bukola Saraki and Ike Ekweremadu as the Senate president and deputy president respectively.
The Federal High Court management is yet to issue a formal statement confirming or refuting the judge's death. However, there are reports that he had been reportedly fighting with an unknown disease for about a month before loosing his battle.