Mercedez's Lewis Hamilton has defeated his teammate, Nico Roseberg, to win the United States Grand Prix.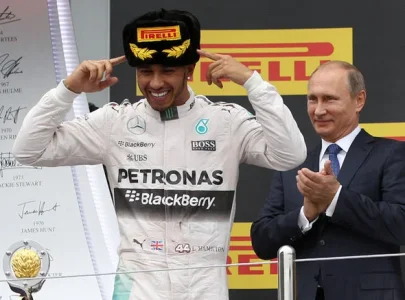 The victory has drawn him on level with Jackie Stewart- the only briton to have won three world titles.
Hamilton owed the victory to an unforced error by Rosberg on the 49th lap when he made a mistake and ran wide at Turn 15 as the pair duelled for the lead.
That mistake gave Hamilton the lead, victory and his third champions' crown.
"It's the greatest moment of my life," he said moments afterward, in-between what seemed to be sobs on his car radio.
"Thank you all so much, I am so grateful to you all. And to my family I love you all. Thank you." he said.
RESULTS
1. Lewis Hamilton (Britain) Mercedes 1:50:52.703
2. Nico Rosberg (Germany) Mercedes +00:02.850
3. Sebastian Vettel (Germany) Ferrari 00:03.381
4. Max Verstappen (Netherlands) Toro Rosso - Renault 00:22.359
5. Sergio Perez (Mexico) Force India - Mercedes 00:24.413
6. Jenson Button (Britain) McLaren 00:28.058
7. Carlos Sainz Jr (Spain) Toro Rosso - Renault 00:30.619
8. Pastor Maldonado (Venezuela) Lotus - Mercedes 00:32.273
9. Felipe Nasr (Brazil) Sauber - Ferrari 00:40.257
10. Daniel Ricciardo (Australia) RedBull - Renault 00:53.371
11. Fernando Alonso (Spain) McLaren 00:54.816
12. Alexander Rossi (U.S.) Marussia - Ferrari 01:15.277
r. Daniil Kvyat (Russia) RedBull - Renault 15 laps
r. Nico Huelkenberg (Germany) Force India - Mercedes 21 laps
r. Marcus Ericsson (Sweden) Sauber - Ferrari 31 laps
r. Kimi Raikkonen (Finland) Ferrari 31 laps
r. Felipe Massa (Brazil) Williams-Mercedes 33 laps
r. Romain Grosjean (France) Lotus - Mercedes 46 laps
r. Valtteri Bottas (Finland) Williams-Mercedes 51 laps
r. Will Stevens (Britain) Marussia - Ferrari 55 laps
Supersport
Last edited by a moderator: