Bishop Seun Adeoye of Sufficient Grace and Truth Ministry, Okinni, Osun State has explained why he embarked on one man rally against the present hike of fuel price from N86 to N145 by the federal government.
Speaking in Osogbo, Osun State on Tuesday, Rt. Rev Adeoye stated that he took the step because he was of the opinion that the Muhammed Buhari's administration has not been fair to downtrodden Nigerians by the increase in the price of PMS.
The statement reads in part:"Nigerians are passing through hell now. People should see the government as a big father who will give them solace in time of crisis. But this father is wielding a big stick against the people.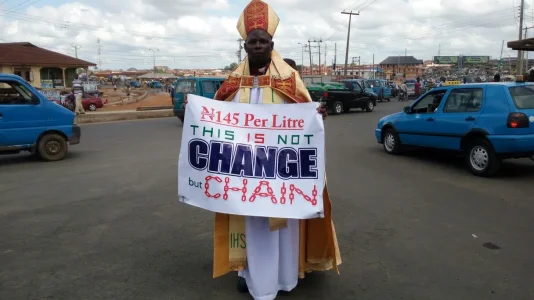 "This increase in pump price of PMS is uncalled for. In the last one year, Nigerians have seen an increase in virtually everything apart from their earnings. We have seen increase in electricity tariff, increase in bank charges and the astronomical increase in food items.
"Churches in Nigeria today are becoming centres for distribution of food items and relief materials to unfortunate Nigerians who had been deceived by elites in government.
"Those who are telling Nigerians to bear the cost and allow the new price regime to stand are people flying over us in their choppers. Even if they call the price N1,000 they will still buy it.
Related: Osun Clergy Man Stage Lone Protest Against Fuel Price Hike – See Photos
"I also believe there is a time for everything. There is a time to speak and a time to keep quiet. For me, presently in Nigeria, this is a time to speak no matter whose ox is gored.
"Some may disagree with me on why as a Bishop I left the pulpit for the streets to express my dissatisfaction on the current fuel hike from N86 to N145 by the Federal Government of Nigeria but I am not bothered about the opinion of men, I am moved by the Spirit of God to do what I did.
"I cannot do anything otherwise but to obey God. Indeed, my major resolution during my".
He urged President Buhari to listen to the voice of the poor and the oppressed in this country to drastically reduce the price of PMS.