As the ECOWAS troops prepares to storm Gambia on the mission to remove Yahya Jammeh, see the military strength of the country.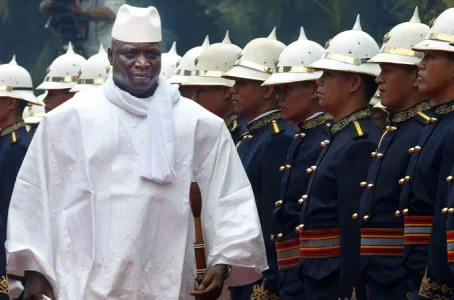 The Gambian National Army (GNA) had a strength of 1,000 personnel in 2013 (900 from the GNA, 100 from the Gambian Air Force). The GNA is made up of two infantry battalions, an engineering squadron, and smaller logistics, signals and intelligence units, plus the presidential guard company. The GNA has upgraded its equipment to provide greater firepower and mobility. It now has several armoured cars (two of which are based at State House) and heavier caliber vehicle-mounted weapons.
National Republican Guard
An amendment to the Gambia Armed Forces Bill in April 2008 included the creation of a new branch of the GAF, the National Republican Guard (NRG).
The NRG is thought to have a strength of 700 personnel, and is made up of a State Guard unit, a Special Forces unit, and a Presidential Guard unit.
Other branches
National Military Police (~400 personnel)
Gambian Navy (~250 personnel); 4 Hai Ou-class fast attack craft, 2 hovercraft and several small vessels, berthed at GNS Jammeh naval base.
Military manpower - availability
Available for military service, males age 16-49: 423,306. Females age 16-49: 438,641 (2010 estimate)
Fit for military service, males age 16-49: 315,176. Females age 16-49: 347,017 (2010 estimate)
Aircraft inventory
Sukhoi Su-25 - 1
Air Tractor AT-802 - 2
Short SC.7 Skyvan - 1
Britten-Norman Defender - 1
Source: Thesummary.com