President Muhammadu Buhari was at city of Banjul, The Gambia on Friday in talks with President Yahya Jammeh to end the crisis over his refusal to accept defeat in elections and to step down when his term ends next week
Before the meeting, Mr Buhari said that "only God knows" if Mr Jammeh would step down, AFP news agency reports.
Outcome of Friday's meeting still sketchy but local sources in The Gambia suggested that President Yahya Jammeh is still adamant on the Supreme Court petition on the December poll and weighing other options suggested by the ECOWAS mediation team by President Muhammadu Buhari.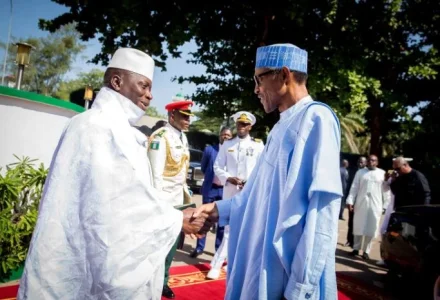 Mr Jammeh has been demanding a new election, run by a "God-fearing" election commission following his shock defeat at the hands of opposition leader Adama Barrow in the 1 December poll.
Mr Jammeh first seized power in a coup in 1994.