A research finding has revealed that carbon emission from generators contribute majorly to the high increase of cancers in Nigeria, and other countries.
Meanwhile, a nurse oncologist at the National Hospital, Abuja, Jane Agabi, told Leadership correspondent that cancer cases are increasing on a daily basis in the country, as up to 90 cases are being diagnosed on the hospital's clinic days.
According to Agabi, cancer is about to surpass HIV/AIDS pandemic in Nigeria as 26 females die of cervical cancer and 40 women die of cancer of the breast, including deaths from prostate cancer on a daily basis.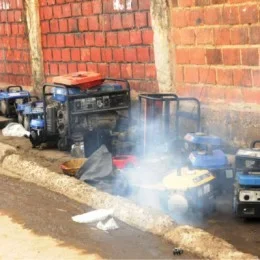 The report which was disclosed yesterday in Abuja, in an international conference on "Mathematical Modeling' organized by the National Mathematical Centre, Islamic Educational, Scientific and Cultural Organisation (ISESCO) and Commission on Science and Technology for Sustainable Development in the South (COMSATS').
Speaking to newsmen, the director and chief executive, National Mathematical Centre (NMC), Prof Adewale Solarin, said the report says that fumes from generators are responsible for the high increase in cancer because they are carcinogenic.
Source:
Leadership
Last edited: