Aaron Ackah, 30, was arrested on Saturday at his wedding ceremony which took place at Aldersgate Methodist Church, Sekondi/Takoradi, Ghana, in connection with a robbery case.
Ackah, is alleged to have robbed a Chinese Small Scale Miner of an amount of Gh¢18,000 after inflicting knife wounds on his left hand.
The couple had just completed the exchange of vows and were about wearing their rings when two plain-clothed police officers stormed the place and whisked Ackah, away after using one of the invitation cards to identity him.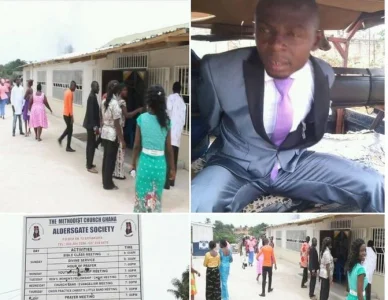 The bride, Rebecca Buah, reportedly collapsed after the arrest.