Borno State Governor, Kashim Shettima is not happy with the conduct of aid agencies in the state.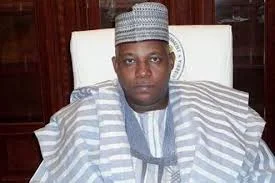 Addressing journalists in Maiduguri on Tuesday, Governor Shettima said, "We have the list of all NGOs operating in this state; apart from the officially functioning NGOs. Some of the United Nations agencies are doing their best in their own way of doing things; but to me I am not satisfied.
"The huge chunk of what they are budgeting for Borno goes to service their overheads. I, as a governor don't ride in bullet proof cars; but they spend more than $50, 000 buying bullet proof cars for themselves.
"They will construct five toilets in Gwoza and fly in helicopters more than seven times to inspect the toilets. We are in the post-conflict phase of insurgency era where we are concentrating on recovery, reconstruction and rehabilitation. But the foreign NGOs have near fixation on the IDP camps.
He however singled out some few NGOs for commendation.
"The World Food Programme is doing a very good job. The ICRC is doing a very good job. We also appreciate the efforts of the Norwegian Refugee Council and the Danish Refugee council. The International Organisation for Migration is doing a good job. The UNHCR is also doing a good job.
"Apart from these eight NGOs, the rest of them are merely existing. I have a list of 126 NGOs in Borno state.
"But we hardly know what the UN agencies are doing. We only see them in some white flashy bullet proof jeeps; apart from that, we hardly see their visible impacts. But particularly the UNICEF, considering the huge quantum of funds at their disposal, they are not really trying.''
"We have become a cash cow; and people are smiling their ways to the banks from the agony of our people. This is unacceptable. People that are really ready to work are very much welcome here. But people that are here on to use us to make money, may as well leave. We don't need them, since they are only he to use us to make money."