The Benue Prisons Service on Monday confirmed that herdsmen invaded its Jato-Aka Farm Centre and killed an inmate, one Tersoo Agidi.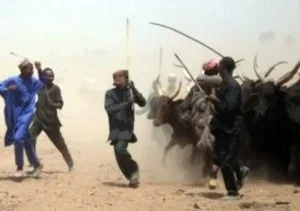 The Public Relations Officer, Benue Prisons Service, ASP Stephen Nwanchor, said in Makurdi that the incident took place on Saturday at the farm centre.
Nwanchor said that the invasion was not a failed jail break attempt.
"This is a new farm centre established in January, 2017. The herdsmen invaded the place, destroyed property, shot and killed one Tersoo Agidi, an inmate.
"We have evacuated all the remaining inmates from the farm centre to Gboko, pending the outcome of the investigation.
"We are not taking anything for granted. My Controller of Prison is on top of the issue, and all relevant security operatives in the state have been notified," Nwanchor said.
The PRO said the service was investigating the invasion to ascertain the remote cause, noting that no arrest had been made so far.
Nwanchor said the service had tightened security in and around all its facilities in the state, assuring that there was no cause for alarm.
NAN