Minister of State for Petroleum Resources, Ibe Kachikwu did not meet President Muhammadu Buhari in person during his much-reported visit to the Presidential Villa in Abuja last Friday, SaharaReporters gathered
Sources said Mr. Kachikwu only met Buhari's State House Chief of Protocol, who reportedly handed some documents to the Minister relating to an investigation involving his brother, Dumebi Kachikwu, and a woman named Simbo Ayinde.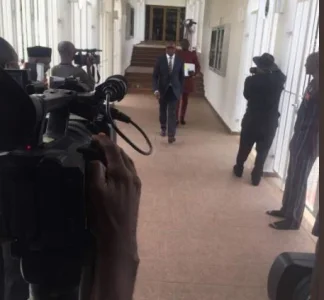 The online medium quoted Presidency sources to have stated that if Buhari met Kachikwu, photographs would have been released to that effect, asked that there might be photos our source noted if any photographs existed it was just possibly a photo op to fool Nigerians that any solid meeting took place between Buhari and troubled Kachikwu.
Presidency sources told SaharaReporters that Kachikwu decided to leak his memo through People's Democratic Party sources after his lawyers in the UK learned he was being monitored by the NCA. Thereafter, he appears to have chosen to go under the radar, switching off his phones and speaking only through third parties.