Former Presidential Aide, Reno Omokri in a Facebook Post explains how former President Goodluck Jonathan ruined Nigeria.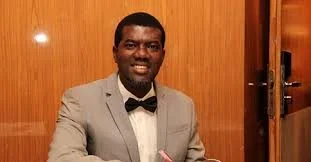 Omokri wrote, "They keep saying Dr. Goodluck Jonathan ruined Nigeria for five years, but in those five years Nigerians had affordable food, fuel, dollars and regular salary at the federal level.
''Moreover, Jonathan did not spend unspecified sums of money on his health abroad neither did he write letters to the National Assembly defending members of his cabinet caught red handed in corruption.
''Perhaps Jonathan ruined Nigerian by reviving our previously moribund railways and made it possible for you to travel by rail from Lagos to Kano at a cost of ₦1500. Perhaps he ruined Nigeria by building the ONLY standard gauge modern railway that makes it possible for you to live in Kaduna and work in Abuja.
''In fact, I am sure Jonathan ruined President Muhammadu Buhari's home state of Katsina, by building the ONLY federal university in that state. If ruining is what Jonathan did for five years, then what will you call what President Buhari has done to Nigeria in the last two years?"