An unnamed hawker was rescued from a kidnappers den in Ogun state a few moments before he was to be killed.
According to PUNCH,
"Fate smiled on an unidentified young boy hawking on Alhaji Jamiu Sulaimon Street in Itele, Ota area of Ogun State on Tuesday evening as he was rescued from kidnappers in the area, just as he was about to be killed.No 3, Alhaji Jamiu Sulaimon, where the boy was rescued is unarguably one of the most beautiful houses on the street but no one could have imagined the horror discovered behind its high walls.

When our correspondent visited the scene on Wednesday morning, a police patrol vehicle was stationed in front of the compound to ward off curious residents and looters.
Click here to read more
Source: #Punch
#Ogun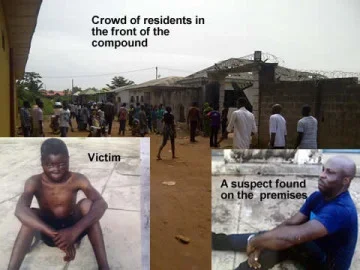 Photo credit: Punch