The International Association of Athletics Federations (IAAF) on Monday confirmed the ban slammed on 12 athletes, including Nigeria's Tosin Adeloye, for doping.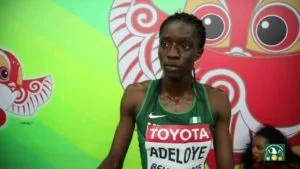 IAAF said in a statement on its website that the confirmation was based on information it received as at May 25.
The body said Adeloye has been banned for eight years after a test she took at the Warri Relays on July 24, 2015 tested positive.
The 20-year old athlete represented Nigeria at the 2015 IAAF World Championships in Beijing, China.
She also represented the country at the 11th All-Africa Games in Brazaville, Congo.
The News Agency of Nigeria (NAN) reports that the Warri Relays was a Super Grand Prix under the auspices of the African Athletics Confederation (CAA).