Human and vehicular movements along Sani Abacha Road and Isaac Boro Expressway in Yenagoa, Bayelsa State capital, were on Thursday disrupted as hundreds of members of the Ijaw Youth Council Worldwide staged a peaceful protest.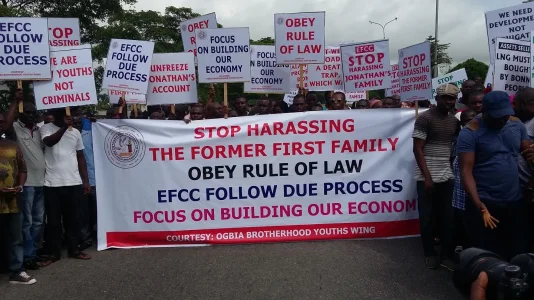 The aggrieved Ijaw youths, who began the peaceful protest about 8am, complained about the alleged persecution of former President Goodluck Jonathan and members of his family.
The protesters, who carried out their agitation under heavy security presence, also alleged that the Muhammadu Buhari administration had not been funding the interventionist agencies and projects in the Niger Delta.
As a result of the protest, business and commercial activities were disrupted for some hours in the metropolis.
Most members of the group chanted protest songs with placards bearing inscriptions such as, 'Stop harassing Jonathan's family', 'Leave Patience Jonathan alone', 'If you must probe Dame Patience Jonathan, all the former first ladies must be probed', and 'We need projects in Niger Delta, not soldiers.'
Other inscriptions were, 'LNG must be bought by Bonny people,' 'We are Ijaw youths, not criminals', 'EFCC, return Alamco's property, don't be biased,' 'Unfreeze Jonathan's accounts', among others.
Addressing co-protesters in front of Ijaw House, the headquarters of IYC, the President, IYC, Mr. Udengs Eradiri, said the protest was to send a message to the Federal Government about the attitude of the Economic and Financial Crimes Commission towards the former first family.
He said the country had produced many first ladies, but the only one from the Niger Delta is being "constantly harassed by the EFCC."