About 20 persons was said to have escaped death in Aba, Abia State, yesterday, when the brake of a fuel tanker failed and it crashed into two cars before ramming into a trailer as all the vehicles moved in the same direction.
According to Vanguard, the fuel tanker with registration number, Anambra: NEN 571 XA and the other vehicles including the trailer, a Mack with registration number, Rivers: XA 499 SKN were descending the Water Side bridge when the driver of the tanker laden with gas lost control as a result of brake failure.
As the tanker driver struggled to regain control, the truck hit two cars, a white 190 Mercedes Benz V-Boot and a Honda Prelude saloon car which somersaulted twice.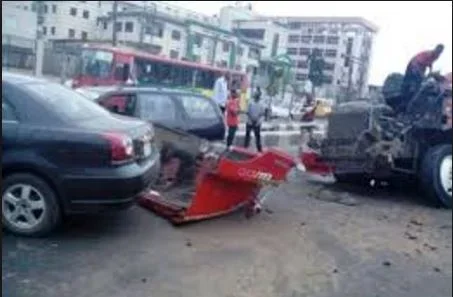 file photo
Eyewitnesses account said that the driver of the trailer skillfully used his truck to prevent the fuel tanker from running across the Aba water side bridge where scores of passengers were boarding vehicles to different parts of the city centre.
"If not for what the trailer driver did, if the fuel tanker had crossed the bridge, dead bodies could have littered the place because many passengers were there trying to board vehicles to the city centre.
It was something to give God the glory that with all that happened, no soul was lost", they said.