Just two days to go in The Gambia before the inauguration of the new president. But the winner of last month's elections Adama Barrow is in Senegal as the outgoing president Yahya Jammeh is not stepping down. The regional group ECOWAS has also made efforts to resolve the crisis, but yet to no avail. Here are likely things that may happen before January 19 inauguration day.
1. Use of Force:
ECOWAS and other international organization may use force to 22-year rule of Yahya Jammeh in Gambia and install Adama Barrow, the people's choice.
2. Deployment of Troops:
Yahya Jammeh may deplore troops, becomes tyrant and shut access to the tiny West African country against external attack.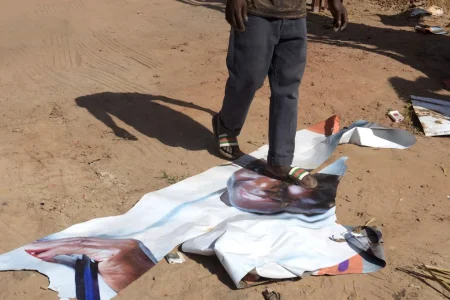 3. Jammeh's Government may Be Toppled:
Gambia's top military officers may topple Yahya Jammeh's government and install a new head in a bid to find solution to the political impasse in the country.
4. More People will run out of the country
– Already, thousands of Gambians have fled out of Banjul, the capital city as imminent violence rages the small West Africa nation over the refusal of President Yahya Jammeh to step down after losing the December election to opposition leader, Adama Barrow.
5. More Cabinet Members Will Resign
– More than 5 ministers in Yahya's Jammeh's cabinet have already resigned over the refusal of the dictator to exit office. We can expect few others to follow suit.