The tomb in which Jesus's body is believed to have been interred after his crucifixion has been officially unveiled after undergoing a $4million restoration.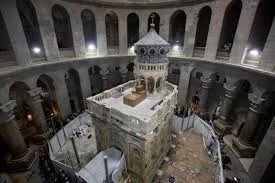 CNN reports that the ambitious project was overseen by the World Monuments Fund (WMF) while Antonia Moropoulou of the National Technical University of Athens led an interdisciplinary team of specialists and masons who carried out the work.
Quarrels between the Holy Sepulchre custodians had held up repair work to the dilapidated monument for over 50 years. The $4m (£3.2m) cost of the restoration came from contributions from the six denominations which share custody of the church, King Abdullah of Jordan, the Palestinian Authority, and Mica Ertegun, the widow of Atlantic Records co-founder Ahmet Ertegun, who gave $1.3m.