The second mature lioness at the Jos Wildlife Park may escape soon as the metal cage holding a mature lioness is so weak the animal could get out, Daily Trust revealed after visiting the park.
It would be the second escape of confined lion from the zoo since December last year.
The cage, as many others confining other animals, was provided in 1972 at the establishment of the park by Sylvia Sykes, a British professor of Zoology, who was contracted by Joseph Gomwolk, then governor of the old Benue-Plateau put up the park, DailyTrust reports.
"The cage is old and weak, and needs to be replaced. It was provided in 1972," John Doy, General Manager of Plateau State Tourism Corporation, managers of the park told Source yesterday.
He confirmed that the condition of the iron cage is a threat to the confinement.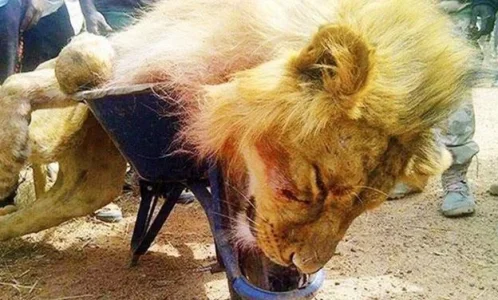 John Doy had said last year that: "The park is in a state of dilapidation. The cage confining the lions is rusty, and weak. It has been patched once, but it's still weak because of lions' urine; their urine is acidic and [corrodes] the cage."
The cage is located at the eastern gate of the park, from where a three-year-old lion broke out without difficulty on December 2 last year.
Personnel at the park had said Leo, as the young lion was named, had been hungry for days, and was probably on its way to finding food when it jumped unto a raised platform, and forced the cage to escape confinement.
READ More :
DailyTrust