An Igando Customary Court in Lagos on Wednesday dissolved the marriage between a 42-year- old pastor and evangelist, Racheal, and her businessman-husband, Mr Joseph Aduwo due to frequent fighting between the man and his wife.
The former husband said: "My wife, who is a pastor, an evangelist, a church interpreter and women leader, fought with nine persons in a day on our street, wearing only bra and underpants. "She is a shameless street fighter".
The court's president ruled that "The court has no choice than to dissolve the union in spite of the fact that the wife claims she still loves her husband. "The court hereby pronounces the marriage between Joseph Aduwo and Racheal dissolved today; both parties henceforth cease to be husband and wife.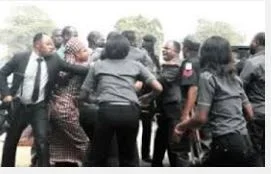 "You are free to go your separate ways without hindrances and molestation." The petitioner, Aduwo, 59, had approached the court seeking the dissolution of the marriage who he described as a street fighter. "My wife one day engaged in fights from 8.00 a.m. to 11.00 p.m. and residents were begging her to stop but she refused. "I also pleaded with her but instead she cursed me and I was ashamed of myself.
"I had to take her pictures with my phone when she was fighting in the public with only brassier and sent the pictures to her family," he also told the court.
Source: Vanguard