The Supreme Court in Nigeria has given the Lagos State Government approval to file an appeal against the judgement of the Appeal Court which released Major Hamza Al-Mustapha, the former Chief Security Officer (CSO) to the late Head of State, General Sani Abacha.
In a ruling delivered by the Acting Chief Justice of Nigeria, Justice Walter Onoghene, the apex court granted the request of the Lagos State Government following a motion argued on its behalf by Miss Oluwayemisi Osusanya, a Senior State Counsel in the Lagos State Ministry of Justice.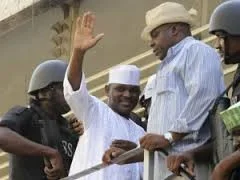 Justice Onoghene says the time within which to appeal against the verdict of July 12, 2013, had been extended for Lagos State government till Thursday.
He, however, conceded to the motion and ordered the Lagos State government to file a notice of appeal within the next 30 days.
Major Al-Mustapha was released by the court on July 12, 2013, after many years of standing trial for the alleged murder of Kudirat Abiola in 1996.