Muminu Badmus, the Group Managing Director, Lagos Water Corporation, says the government has designed water distribution kiosks across the state to bridge the shortfall in water supply and connect more residents to the central water system operated by the government.
According to him, residents will be able to buy potable water at a cheaper price from vendors operating the kiosks.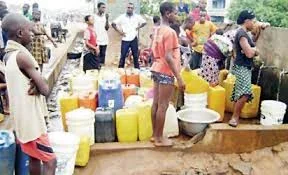 "New water distribution kiosks are to be distributed across the state so that all the communities that have yet to be connected with the current water distribution network will have access to water supply."
Ambode, who was represented by the Special Assistant on Housing, Mrs. Mudirat Giwanson, said the facility was part of the initiatives to create "a vibrant and viable 24-hour economy." also urged community leaders to be security conscious and protect the facility from miscreants.