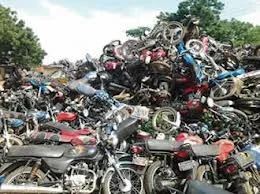 Three people were reportedly killed by Lagos State Bus Rapid Transit, BRT, with number plate LAGOS XQ 766 LSD and marked LAGBUS F014, yesterday, at Awoyaya area of Ibeju-Lekki along Lekki/Epe Expressway, Lagos.
Eyewitness said the victims were on a motorcycle from Container area of Ibeju-Lekki and were reportedly being chased by RRS men before they ran into a BRT, which killed them instantly.
Chairman of the Arewa community, Ibeju-Lekki, Musa Sule, said: "What happened today (yesterday) was against the right of the people, especially the Arewa community living in this area.
Click here to read more
Source: #Vanguard