Some villagers of Okunraye Community, Ibeju Lekki area of Lagos State, one of the villages hosting the Lekki Free Trade Zone told a Lagos State High Court in Igbosere on Tuesday that the police were responsible for the killing of Alhaji Tajudeen Disu, the Managing Director of the free trade zone,
Alhaji Disu was killed by some rioters from Okunraye, who protested against the takeover of their land by the government last week.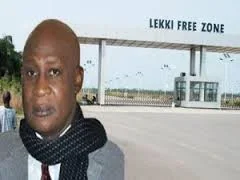 The police had subsequently arrested and charged 17 members of the community with Disu's killing but in a fundamental rights enforcement action filed before a Lagos State High Court in Igbosere, four leaders of Okunraye community claimed that Disu was killed by a stray bullet fired by the police.
In the affidavit filed to support their suit, one of the community leaders, Alhaji Surajudeen Salami, claimed to have seen the policeman who pulled the trigger that hit Disu.
According to Salami, a large number of riot policemen had on the the fateful day stormed Okunraye, apparently in view of a scheduled meeting between the community leaders and representatives of Dangote Group.
The meeting, he said, was to discuss how members of the community would benefit, in terms of employment, in a construction project embarked upon by Dangote in the community.
Salami, however, claimed that while the meeting, also attended by the Divisional Police Officer in the area, was ongoing at the palace of the
Baale
of Okunraye, riot policemen pulled down the barricade mounted by the youths and began shooting into the air.
"Some residents rushed to the
Baale's
house to inform him of the development. The DPO also left
Baale's
house immediately.
The applicants are seeking a court order directing the immediate and unconditional release of community members arrested over Disu's killing and a declaration that the invasion of their community on October 12, 2015, and their subsequent arrests constituted a threat to life, freedom, private and family life.
When the matter came up before Justice R.I.B. Adebiyi on Tuesday, the applicants' lawyer, Akinlabi Apara, informed the court of an ex parte application and other processes filed in the suit.