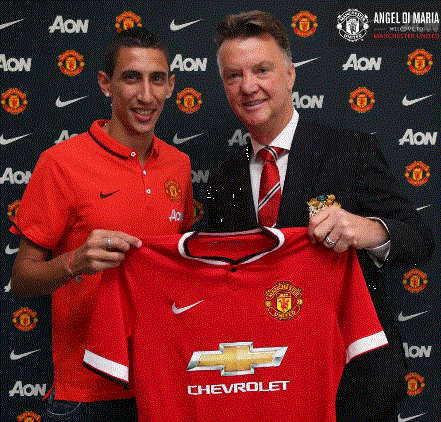 Manchester United manager Louis Van Gaal has downplayed the signing of Angel Di Maria, saying that he is not the saviour of his team.
The Englsih club broke the British transfer record,paying Real Madrid a whooping £59.7million to sing the Argentine.
United have struggled since the start of the season,losing two and drawing one of their first three games of the season.
Speaking at a news conference on Thursday,Van Gaal noted that Di Maria will help the team but said that he is not the messiah
"I hope Di Maria shall give us good results but we cannot expect after two days training that he is the miracle."
"We have to look at the future and we're doing that now with Manchester United by restoring and rebuilding a new team and that costs time," he added.
"Di Maria fits in our philosophy and I can change the system with him and maybe we will do that in the future, maybe in a match. At Real Madrid he didn't only play as a winger but also in midfield so that is also a reason why we are convinced he shall succeed."
The 26-year old Di Maria said that he was not fazed that United will not be in Champions League,adding that he joined to help the team.
"I like the team and I wanted to come here even though they're not playing in the Champions League. I want to help the team get into the Champions League. I'm pleased with the manager for choosing me to come to Manchester United."
Di Maria could make his debut on Saturday against Burnley.