Medview Airline, one of Nigeria's flag carriers will be "Listed by Introduction" on the Nigerian Stock Exchange (NSE) on Tuesday January 31, 2017.
Med-View is the first airline to list its shares on the capital in the last decade.
The airline also appointed Kedari Capital Limited and Trustyields Securities Limited as financial advisers/issuing house and stockbrokers to it in respect of the Listing exercise.
Med-View Airline, it was gathered, would be listing 9.75 billion ordinary shares of 50 kobo each at N1.50 per share, indicating a start-off market capitalisation of N14.63 billion.
Executive Director, Business Development, Med-View Airline, Mr. Isiaq Na' Allah in a statement on Sunday announced the airline's foray into the local bourse.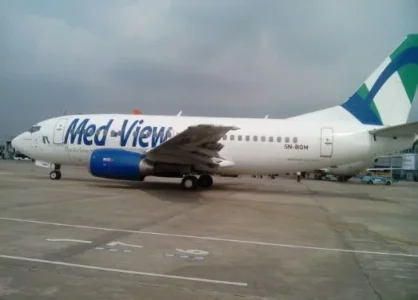 According to him, "The growth projection and market forecast informed Medview Airline decision to be listed on the Nigerian Stock Exchange to give members of the public the opportunity to be part of the airline through share holding."
He said the listing will enable the airline expand its routes network and acquire more aircraft to boost operations.
Medview Airline started 12 years ago as a cargo, tour and charter operator before venturing into Hajj operations, airlifting over 300,000 pilgrims since inception.
The airline's forays into pilgrims airlift has revolutionized pilgrims handling and airlift in Nigeria and the West African sub-region.