panic gripped over 100 passengers on Tuesday as Medview Airline flight from Lagos to Abuja was suspended midair after a fault was observed.
According to Premium Times, a passenger on the flight said passengers suspected the plane, with flight number VL 2102, was faulty before takeoff, but they were assured by the pilot and the crew that all was well.
The plane was scheduled to get to Abuja before a final journey to Yola, Adamawa State.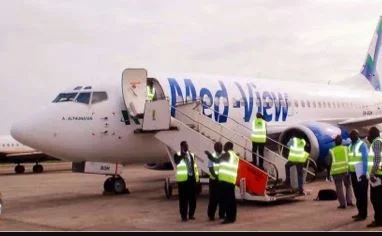 The incident occurred at about 11a.m. forcing the pilot to abort the flight.
The Medview incident happened a day after a Boeing 737 aircraft belonging to Air Peace on Monday suffered a burst tyre while preparing for take-off at the Murtala Muhammed Airport, Lagos.