A mid-night fire on Tuesday gutted the famous Kurmi market in Kano metropolis, destroying property worth millions of Naira, NAN reports.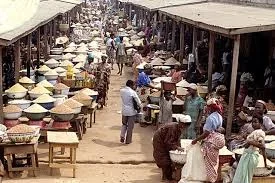 An eye witness told reporters in Kano on Wednesday that the incident occurred around 11:45 p.m.
According to the witness who pleaded anonymity, the fire destroyed no fewer than 30 shops in the market before men of the State Fire Service put it out.
The witness said the quick arrival of the fire service personnel prevented the inferno from spreading to other parts of the market. The Director of the Fire Service, Alhaji Mustapha Rulwan, confirmed the incident.
Rulwan said his office got distress calls around 10 p.m. but that men of the Service were able to quench the fire around 1 a.m. He said the cause of the inferno was still unknown but advised people to take precautionary measures while using fire.
NAN reports that Kurmi, the oldest market in the city, had experienced similar fire outbreaks in the past.