The Senate has summoned the Minister of Finance,Kemi Adeosun and the Governor of the Central Bank of Nigeria (CBN), Godwin Emefiele to brief the senate on the current state of the economy especially with the imminent plans to effect naira devaluation.
The decision followed a Motion on the Urgent need to address the present economic state of the nation moved by Senator Bassey A. Akpan from Akwa Ibom.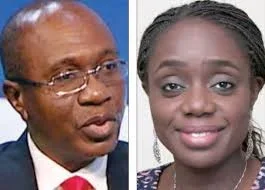 Akpan said the grim picture painted of the economy by the CBN as well as the report of the National Bureau of Statistics (NBS), showing the country in economic recession.
He pointed out that the decision of the CBN to adopt a flexible foreign policy simply means naira devaluation, no matter the name the apex bank decides to call it.
The motion was seconded by Senator Biodun Olujimi from Ekiti State.