Nigerian naira on Thursday edged towards 300 per dollar at the black market as Central Bank of Nigeria, CBN, keeps pumping forex into official market to narrow the currency's spread at the black market.
The currency trades at 380 to 400 against the US dollar at the parallel market, gaining 2.5 per cent as individuals rush to sell the U.S. currency. It also appreciated to 500 and 430 against Pound sterling and Euro respectively.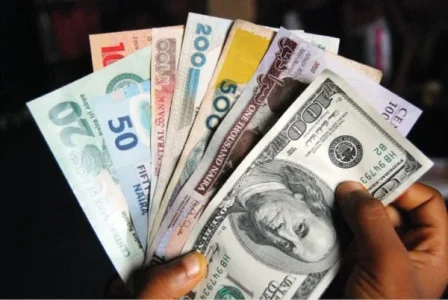 The Central Bank of Nigeria has been intervening on the official market to try to narrow the currency spread with the black market rate, which was 520 to the dollar a month ago.
The Apex bank sold $1.5 million on Wednesday at 307.75, weaker than the 307.50 it intervened previous session. It has weakened the currency by 0.6 percent in the past two weeks at the official side.
Related:
How CBN Weakens Dollar, Pushes Naira To 7-Month High At 410/US$1