Nigerian naira appreciated to 363 naira to the dollar at the parallel market as Central Bank of Nigeria, CBN, continues to mop up liquidity in the forex exchange market.
The currency on Thursday, however, dropped 0.02 per cent at the CBN official market to 305.65 naira to a dollar.
At the I&E – Investors' & Exporters' FX Window, the currency shed 0.04 per cent to N360.33 to the dollar.
The naira stable at 480 and 421 to the Pound sterling and Euro at the parallel market respectively.
This development is coming as the Central Bank of Nigeria (CBN), further intervened in the inter-bank foreign exchange market with $195million.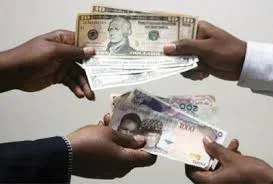 Figures released by the bank show that it offered the total sum of $100million to the wholesale segment, while the Small and Medium Enterprises (SMEs) segment received the sum of $50 million.
The invisibles segment, comprising tuition fees, medical payments and Basic Travel Allowance (BTA), among others, received $45 million.
The Acting Director, Corporate Communications Department of the Bank, Mr. Isaac Okorafor, said the CBN was pleased with the state of the Forex market, adding that the Bank will continue to intervene in order to sustain the liquidity in the market and guarantee the international value of the naira.