The Naira on Monday exchanged at N320 to a Dollar at the parallel market in Lagos State.
The News Agency of Nigeria (NAN) reports that the value of the Naira on Monday afternoon remained the same as its rate at the weekend.
However, it traded against the Pound Sterling and the Euro at N450 and N361 respectively.
Meanwhile, the Nigerian currency maintained N197 to the greenback at the official Central Bank of Nigeria (CBN) rate.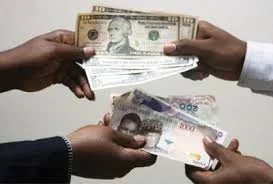 Traders at the market remained resolute that the Naira would soon firm up against other currencies as China and Nigeria strengthened trade relations.
The CBN had expressed optimism that the currency swap deal between Nigeria and China would strengthen the Naira and reduce high demand for the greenback in the country.
The Industrial and Commercial Bank of China Ltd (ICBC), the world's biggest lender, had signed a deal with the CBN on Yuan transactions during President Muhammadu Buhari's visit to Beijing.