Nigerian Naira on Tuesday made great recovery, rose 5.81 per cent to 430 against the United States Dollar at the parallel market.
The massive gain is coming as the CBN on Monday injected additional 180 million dollars since February when it started its intervention to meet bids for wholesale auction and requests for invisibles such as medicals, school fees and personal travel allowances.
The currency maintained gain against the Pound sterling at 530 while it appreciated by 15 naira to 450 against the Euro.
At the official market, the currency closed flat at 307.50 per dollar.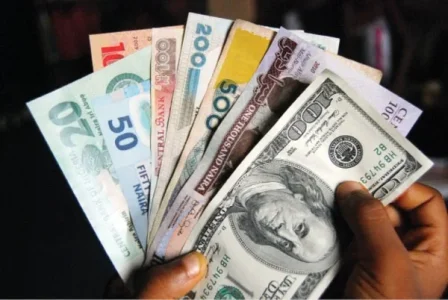 Alhaji Aminu Gwadabe, President, Association of Bureau De Change Operators of Nigeria (ABCON) on Tuesday in Lagos said the new Forex policy had eliminated frivolous demand for dollar.
According to him, frivolous demand for dollar has been responsible for the weakness of the naira.
The ABCON chief said that CBN's continued intervention at the Forex market would soon spell doom for speculators and currency hoarders.
"Currency speculators and hoarders would suffer more losses as the CBN injects more dollars to the interbank market.
Meanwhile, Nigerian economy is starting to grow out of the recession which saw 10 months of consecutive contraction, March Sales Managers' Index (SMI) data by World Economics suggested.

Related: Nigerian Economy Climbs Out of Recession