The Nigerian naira extended recovery at the parallel market by gaining 4.87 per cent to 411 against the United States dollar as Central Bank of Nigeria moves to close the gap between the various forex rates in the country.
The currency also appreciated against the Pound and Euro at the market to 510 and 435 against but depreciated slightly to 435 from 530 and 450 its closed on Tuesday evening at the parallel market.
At the official market, the currency also gained 0.08 to close at 307.75.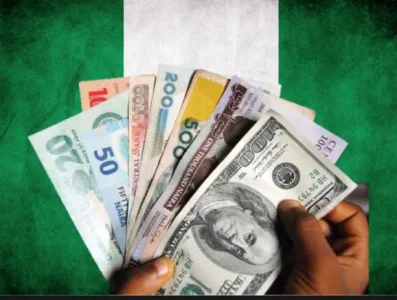 The Central Bank of Nigeria (CBN) is moving quickly to revive the moribund interbank foreign exchange (FX) market as well as close the widening gap between the official market rate at N307/$ and parallel market rate of over N400/$.
The moves witnessed the injection additional 180 million dollars since February when it started its intervention to meet bids for wholesale auction and requests for invisibles such as medicals, school fees and personal travel allowances.
Alhaji Aminu Gwadabe, President, Association of Bureau De Change Operators of Nigeria (ABCON) on Tuesday said that CBN's continued intervention at the Forex market would soon spell doom for speculators and currency hoarders.