Nigerian naira on Tuesday tumbled to 507 per US dollar at the parallel market, the worse in the history of the country.
The currency is also trading at N530 and 630 to the euro and pound respectively at the black market segment.
The naira had open trading at a record high of 500 per dollar in February despite Nigerian government's efforts to save the currency.
However, at the official market side it remained flat at N305 to dollar, where it has been trading since last August.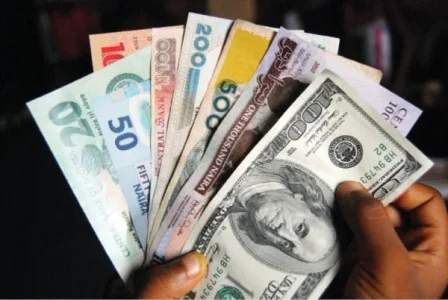 Meanwhile, former deputy governor of Central Bank of Nigeria (CBN), Obadiah Mailafia while delivering a lecture at the public hearing on the 2017 at the National Assembly on Monday said 20 percent of the currency circulating in the country is fake.
Mailafia said it would be impossible to bring down food prices with fake Naira in circulation and
"if nothing is done, the Naira will continue to plunge down forever".
Mailafia said apart from the foreign exchange crisis, the refusal of CBN to effectively regulate commercial banks contributed to the recession in the country.