Roberts Obuoha, a Director in Project Management Department of the Niger Delta Development Commission, has been arrested by the Economic and Financial Crimes Commission for bribery.
Obuoha, who is being investigated by the anti-graft agency, was invited by the EFCC to write a statement on contract splitting and inflation in the commission.
Subsequently, he was arrested while attempting to bribe the EFCC South-South Zonal Head, Ishaq Salihu, with N150, 000.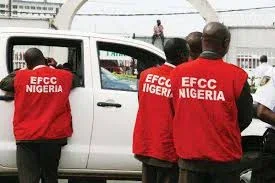 The suspect however, maintains that the money is for recharge cards, and that it wasn't a bribe.
A statement by the EFCC reads: "He was quizzed and offered administrative bail, but when he reported the next day to perfect his bail, he went to the zonal head's office and offered him the sum of N150, 000 to buy recharge cards.