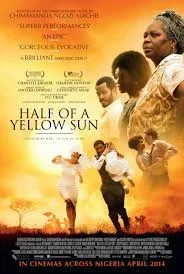 After the tussle for its release in Nigeria, "Half of A Yellow Sun", a screen adaptation of Chimamanda Adichie's bestselling novel,will be available in cinemas across the country from the 1st of August 2014. The film was one of the 77 movies recently approved by the National Film and Video Censors Board, NFVCB.
It was initially scheduled to open in Nigerian cinemas on Friday April 25, but was stopped as the Censors Board refused to issue the movie a certificate.
The Board's Acting Corporate Affairs Manager, Caesar Kagho in a statement said, the film is standard and rated "18".
Click here to read more
Source: #NigerianEye