Nigerian currency opened trading on Tuesday morning to gain 5 naira against the United States dollar at the parallel market.
Table below shows today's (28/03/2017) exchange rate of the Nigerian Naira against the Dollar, Pound and Euro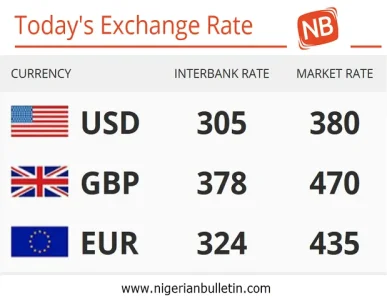 The currency on Monday gained 1.3 per cent to close at 385 to the dollar and massively appreciated by 20 naira against the Pound sterling as relaxes exchange rate policy for travelers, students and medical fees.
Meanwhile, Bureau de Change (BDCs) operators in Nigeria are kicking over Central Bank of Nigeria's adjustment in forex policy.
President of Association of Bureau De Change Operators of Nigeria (ABCON), Aminu Gwadabe said market fundamentals, including the current selling rate of $381 to dollar do not favour the BDCs when International Money Transfer Operators, IMTO sells below the rate.
Naira Rate: Bureau De Change Operators Kick, Reject CBN FX Policy