The Nigerian National Petroleum Corporation has stopped pumping Premium Motor Spirit (petrol) to its depots in a bid to avoid losses that arise from the incessant rupturing of pipelines that convey products to the various facilities.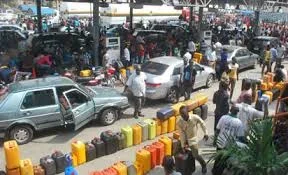 It was learnt that the corporation had also devised new means of selling the product, as it now preferred to sell in bulk to financially buoyant oil marketers, rather than pumping to the depots from where independent dealers could get their petrol supply.
Oil marketers told Punch correspondent that the destruction of facilities by militants was impacting negatively on the sector, adding that this might lead to petrol scarcity in selected locations across the country.
An executive member of the Independent Petroleum Marketers Association of Nigeria, Mr. Dibu Aderigbigbe, said filling stations belonging to IPMAN members were being starved of the product as a result of the non-availability of petrol at the NNPC depots.
He said, "We are not being supplied products. There is no product in any NNPC depot for they are afraid of pumping petrol because of issues of vandalism. They don't want to waste the product, because they know they have gone commercial and are aware that they can't report any loss to the government."
He denied claims that IPMAN members could not pay outstanding funds that were needed before the PMS could be supplied by the corporation.
A major oil marketer told also noted that the non-supply of petrol to independent dealers by the NNPC might lead to the scarcity of the product in selected locations.
When contacted, the NNPC did not deny or confirm the claims by the marketers.
The corporation's Group General Manager, Group Public Affairs Division, Mr. Garba-Deen Mohammed, neither confirmed nor denied that the NNPC had stopped pumping petrol to the depots.
In a brief text message after several attempts by our correspondent to get the oil firm's position on the matter, he said, "I am in a meeting."