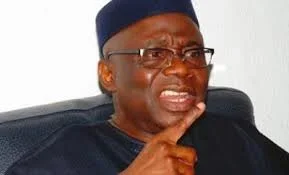 The Serving Overseer of the Latter Rain Assembly and Convener of the Save Nigeria Group, SNG, Pastor Tunde Bakare, has said interim government may be the solution to the political crisis that may erupt whether President Goodluck Jonathan contests next year's presidential election or not.
He said the dilemma of whether President Jonathan should contest or not is a major issue the nation would grapple with in 2015, given the threats by those who do not want him to contest and that of his kinsmen in the Niger Delta who have threatened to blow up oil installations in the region if Jonathan does not return to power.
Bakare, who is a delegate to the National Conference, spoke during Sunday's church service in Lagos while preaching on the topic: High Profile Scandals Part 2, subtitled Conspicuous Consumption.
Click here to read more
Source: #PMNEws