The Peace Corps of Nigeria (PCN), has slammed a N2bn suit against the Attorney-General of the Federation (AGF), Inspector General of Police (IGP) and the Director-General of the Department of State Services (DSS), over the arrest and detention of its National Commandant, Amb (Dr.) Dickson Akoh and 49 others.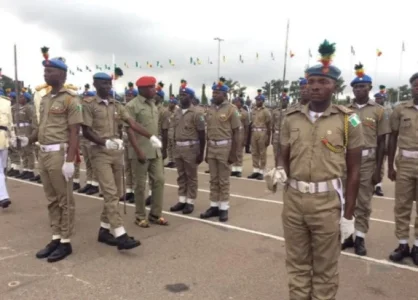 The security agencies had on Tuesday, last week, raided the new National Headquarters of the Corps, arresting the National Commandant and 49 others, while about 6 were brutally wounded and hospitalised.
In the legal action instituted by a former Attorney-General of the Federation (AGF) and Minister of Justice, Mr. Kanu Agabi (SAN), the plaintiffs are demanding a sum of N2bn as compensation for the embarrassment caused the Peace Corps of Nigeria and its Incorporated Trustees.
In the suit filed at the Federal High Court, Abuja, the plaintiffs are asking the court to declare as illegal, unlawful and unconstitutional, the arrest of Amb. Akoh and other officers of the Corps as well as the sealing off of its Head office in Abuja and offices in the 36 States of the Federation.
The Plaintiffs further asked the court to declare that, under the 1999 constitution as amended, they have not committed any offence to warrant their arrest, detention and sealing up of their offices across the country as done by the defendants.
The defendants in the court action are, Police IGP, National Security Adviser (NSA), DSS,DG-DSS and the AGF who are 1st, 2nd, 3rd, 4th, 5th and 6th respondents, respectively.
Apart from the above reliefs, the plaintiffs also asked the court to declare that the sealing-off of their new office Headquarters in Abuja is illegal, unlawful, malicious and unconstitutional, having not committed any offence to warrant the unlawful invasion and seizure of properties.
Meanwhile, the matter is expected to be heard today, Thursday, by Justice Kolawole.