The Nigerian Army contingent at the just concluded Access Bank Lagos City Marathon 2017, has been rewarded with promotions and cash prize of N150,000 each.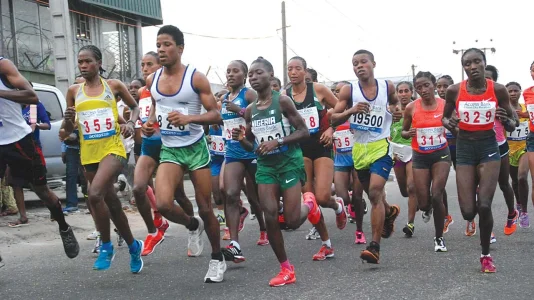 The Army team surpassed its performance in the last edition in an event that featured world class marathoners and accomplished athletes.
The Director, Army Public Relations, Brigadier General Sani Usman, said in a statement that in view of the achievement, and to encourage them, the Chief of Army Staff, Lieutenant General Tukur Yusufu Buratai, has directed their elevation to the next higher rank respectively and donation of cash gift of N150,000 to each of the athletes.
Usman said: "This year, the first soldier to arrive, Private Auwal Hudu, came 10th overall, within 2hrs 45mins, while Private Raymond Nanribet took 12th position and arrived within 2hrs 46mins. Private Sanusi Husamat was number 13 and has the timing of 2hrs 48mins. Private Danjuma Stephen took 14th position and arrived within 2hrs, 56mins.
"Others were Private Gyang Dalyop, who was 15th position overall, and within 2hrs 58mins, Lance Corporal Gyang Yakubu, 17th position within 2hrs 59mins and Private Muplang Luwadet was 18th person to arrive within 3hrs 3mins.
"Among the female fielded athletes, Private Hannah Adewale was the first to arrive and took 8th position among all the female marathoners with a timing of 3hrs 52mins, while Private Naomi Yunana was number 9th, with a timing of 3hrs 56mins, Corporal Eunice Waje came 10th and made it within 3hrs 58mins, while Private Lange Rose took 11th position overall with a timing of 3hrs 59mins."