The Nigerian Army has raised an army battalion that would be deployed in troubled Gambia to forcefully remove President Yahya Jammeh from power if he fails to step down on January 19, Premium Times reports.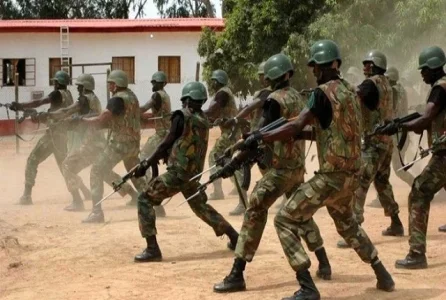 The battalion, christened ECOMOG NIBATT 1, was drawn from the Army's 19th Battalion based in Okitipupa, Ondo State, military insiders have told Premium Times.
Personnel were also drawn from other formations and units across the country due to shortage of men at 19 Battalion which has a significant chunk of its troops deployed for internal security task force, Operation Delta Safe.
It learnt that the Army Headquarters has instructed the nominated officers and men, put at over 800, to immediately report at the Nigerian Army School of Infantry, Jaji, for a crashed course on counter terrorism and counter insurgency.
Top military officers said the Nigerian Battalion would be deployed in The Gambia anytime after January 19 if President Jammeh makes real his threat not to step down after the expiration of his tenure.
Read more in
Premium Times