Olasunkanmi Lawal, a 52-year-old housewife has lost the use of one of her eyes after a fight with her mother-in-law, Aduke Awakan at Isale Agbede Street, Lagos Island in Lagos State.
The mother of two was also said to have been attacked by her sisters-in-law, Bose Showole (39) and Oduntan Enitan (24), at their family house in Lagos State.
The case was reported at the Adeniji Adele Police Station, leading to the arrest of the suspects.
According to PUNCH, the victim explained that she was attacked because she stopped giving money to the septuagenarian.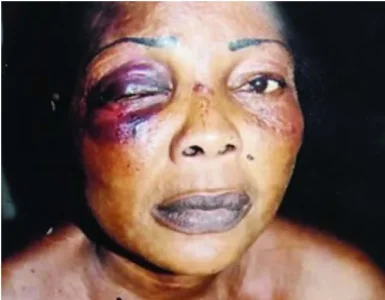 "My husband and I live in the family house and we have been there since 1989. We have two children, however, my mother-in-law started keeping malice with me after I stopped giving her money. I lost my jewellery business due to the demolition of my shop in 2014 and because of that; I could no longer support her", she said.
She said: "on the fateful Saturday, January 16, around 4pm, I returned from work and met her at home. When I greeted her, she shunned me. I was surprised because I never had any disagreement with her.
"Before I knew it, one of her children, Bose (Showole), punched me in the left eye. I fought back. Her grandchild, Enitan, used stone to hit me in the same eye, while the woman herself hit me with a chair. Blood started coming out from the eye."
Read More on
PUNCH
Last edited: