The Nigerian Navy has declared a certain Mr Charles Ekpemefumor alias Charles Parker wanted over his alleged role in the hijack of a vessel, MT MAXIMUS with 18 crew members and carrying 4,368.203mt of gas oil.
The vessel was hijacked on February 11, 2016 by a group of suspected pirates off Cote D'ivoire waters.
The Navy consequently recovered the vessel eight days later within Sao Tome waters 320 nautical miles (nm) off the Nigerian coast.
A statement issued by the Navy's Director of Information, Commodore Christian Ezekobe, says six pirates were arrested while one of them was killed during the rescue operation.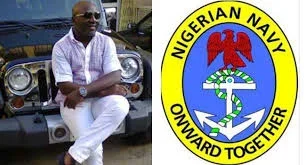 The statement added that the Navy has since discovered Mr. Ekpemefumor is the mastermind of the attack on the MT MAXIMUS.
Part of the statement reads; "Additionally, he was alleged to be responsible for the leasing of mother ship MT DEJIKUN used for the hijack from one Mr Mustapha Kenny Gani through a third party called Mr Steve Paul.
"In view of his involvement in the pirate attack and hijacking of MT MAXIMUS, a letter of invitation was sent to him on 15 April 2016 to enable him come for questioning on the allegation. Several attempts have been made to ensure his compliance but all efforts proved abortive.
"Accordingly, Mr Charles Ekpemefumor Alias Charles Parker is hereby declared wanted by the Naval Headquarters in other to unravel the circumstances of the hijack of MT MAXIMUS.