As part of activities marking its Diamond Jubilee celebration, the Nigerian Navy (NN) has donated drugs and foodstuff to Internally Displaced Persons (IDPs) camped in Dalori 11, Maiduguri, to alleviate their sufferings.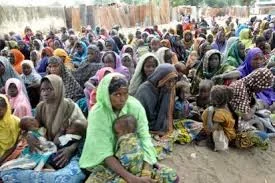 Chief of Administration, Nigerian Navy Headquarters, Rear Adm. Obiora Medani, while making the donation, said the exercise was timely.
According to him, the Medical Rapsody in Borno is meant "to express our own empathy to the good people of the state for the trauma they have suffered in the hand of the insurgents''.
He said the Rapsody was also to tell to the people of the state that they were not alone, especially the women and children.
He added that in commemoration of the celebration, the NN is also conducting medical rhapsody in all its commands across the country.
Items donated include: drugs, treated mosquito nets, beverages, biscuits and soft drinks.
In his remarks, Gov. Kashim Shettima who spoke through his Deputy, Alhaji Usman Durkwa, commended the armed forces for their successful counter-insurgent operations in the North-East.